A Journey Into Myanmar by Madison Simmons
Sweat ran in rivulets down my back as we walked through the dusty streets of a place whose name I did not catch.
"This is a buddhist village. These are buddhist people," my new friend and host for the next few days, Elijah, told me.
"We are here to teach the children of Jesus. The children want to know Jesus" he said.
In the ninety minutes I had known Elijah (the time it took to slog less than twenty miles through the ill-famed gridlock traffic of Yangon) I had learned that he is a man of vehement passion. Our conversation had consisted of him asking me about myself punctuated by long monologues that would make the most ardent televangelist proud with their Bible-quoting and irrefutable energy. After reeling off one of these speeches he would fall silent and with a quiet smile tell me,,
"That is how I preach to the people."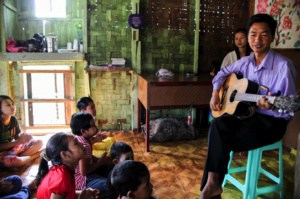 He has brought me to this neighborhood on the outskirts of Yangon where he and a few other devoted Christians have begun a Bible school for village children. The school is held in the home of the only Christian family in the area. Elijah comes periodically to help by preaching and leading in songs.
As we approach the house the sound of loud shrill voices fills my ears. The Myanmar people love to sing. We walk in, and a group of about fifteen children stand, sing-yelling songs with words I do not know, but whose tune I can hum along to. Many of the songs they sing are Myanmar translations of popular American praise and worship tunes. Elijah explained that many more children used to attend but their Buddhist parents became uneasy and forbid them from coming to the school. Other parents did not mind, as at school the children are guaranteed a meal and a more consistent education than the rarely-enforced public school system provides.
As I sat on a low bench, watching the children, I took in my surroundings, finding myself in an environment unlike any other I had seen. The walls were thatched, there was no furniture, the children wore bright, tattered mismatched clothing, and I could hear the braying of goats from the dusty street.  The only school supplies seemed to be a series of faded English-Burmese posters on one wall. By American standards, this was severe poverty.
And yet what did they lack? Joy such as I have never witnessed in American schools pervaded the open rooms of that modest, warm home. The children sang with their mouths wide open and heads flung back. When prompted by Elijah or the teacher to quote a Bible verse they chanted back the answer in unison. Southern Myanmar is predominantly Buddhist, and the opportunity to practice Christianity is a rare and cherished one. After the lesson ended and bowls of milky tapioca-laden bowls of soup were passed around, Elijah and I rose to leave. The formerly shy children rushed to the door, all smiles, waving goodbye.