Chicken-Elephants and Other Blessings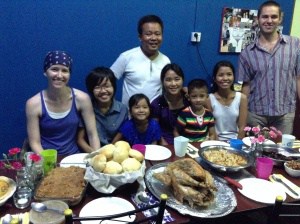 Well another successful Thanksgiving has come and gone. It was a beautiful day here in Texas and facebook was awash with people posting just how much their cup runneth over. The LFM team in Myanmar was also able to celebrate this year and invite some of the youth we work with to share in the festivities. There was even a real Chicken-Elephant, which is what the English translation of the Burmese word for Turkey is.
The visual centerpiece of any thanksgiving meal is easily the Turkey. It has become the symbol of God's bountiful blessings on that one day we set aside to focus all our energy on giving thanks for all the good things we got in the other 364 days leading up to thanksgiving.
Well this year Love For Myanmar (LFM) has so many things to be thankful for and we hope we remember to remain thankfully aware of all of our blessings in the days to come! We have had an awesome year with big movement in our organization. A lot of it can be paralleled to the fact that you could buy a Turkey in Myanmar this year. You see, it's a foreign food. It has to be imported. In years passed there have been so many economic sanctions and bans on import/exports as well as unwillingness on the part of the Myanmar to negotiate such things with the western world. In the last two years so many things are beginning to change. As a result of these changes LFM has also been able to work more freely inside Myanmar which opens up a whole wealth of possibilities that we were not sure would ever be possible.
Just a few of the awesome successes we have to be thankful for this year are:
1: We changed our name and it is so much more reflective about how all of us involved feel about Myanmar and her people.
2: We enjoyed two awesome summer interns, one that spent the summer in Myanmar and one that worked with us here in Austin. They both brought a fresh perspective and new insights to LFM and we are so thankful for them!
3: We successfully negotiated and purchased land in Myanmar, which we have big BIG plans for.
4: We enjoyed sharing Myanmar with the largest group of volunteers composed mostly of youth on our mission trip this summer.
Thank you to everyone who has been a faithful part of our growth process. We are looking to the New Year with hope and excitement and can not wait to see what comes next! God's Bountiful Blessings really are everywhere!