What is Love for Myanmar up to these days?
The Joshua Project estimates that there are one-hundred and forty-six people groups in Myanmar, forty-nine of which are less than 2% evangelical. Buddhism is the major religion (76% of the population) and eighty-four percent of the population have never heard the Gospel.
The Burmese people are kind, gentle, and hospitable, but face an eternity separated from God and their loved ones if they do not hear and respond to the Gospel. The need is great – forty-six million people who are lost and never heard the good news.
Missionaries have worked in Myanmar since 1813 with scanty results. What makes us think our approach will produce better results? Simply, our strategic plan is based on imitating Jesus' approach to mission in the Gospels.
Following Jesus' method, we have trained more than 5,000 believers throughout Southeast and Southern Asia. Those believers have started more than 1,200 discipleship groups, and by God's grace, 200 of those groups have become churches.
The seven steps of Jesus' strategy are: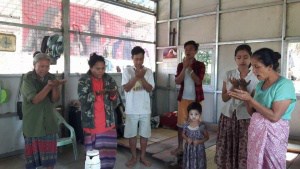 Go
Share God's Love
Share the Gospel
Make Disciples
Form Disciple Groups
Train Leaders
Start Churches
We provide resources, training, and coaching for each of these steps, leading to healthy, reproducing churches. Since most people in Myanmar are semi-illiterate, our materials are practical and easily remembered with repetition and hand motions. We also create audio and video resources that can easily be distributed via smart phones and DVD discs.
Our long-term goal is to establish a church in every city, town, and village in Myanmar following Jesus' method. The spread of the Gospel will bring eternal salvation to countless Burmese people, facilitate peace among the ethnic groups, and provide a brighter future for the youth of Myanmar.
We have a network of sixteen house churches among the Mon and Karen people (Unreached People Groups) in southern Myanmar. We are testing a model of reproducible church planting using Follow Jesus Training (see www.t4tpress.com).
Our short-term objective is to double the number of people within each of the seven steps of Jesus' strategy in the next eighteen months, perfecting the model, and then launching it to the entire country of Myanmar.
We have established a network of leaders over the last fourteen years and emphasize both mercy ministries and sharing the Gospel in everything we do. We have the training materials, the supervisory people in place, and a solid plan, but need additional funds to take the work to the next level, including creating audio and video training sessions that will be freely available to every Christian in Myanmar via smartphones and the internet.
The current move towards democracy in Myanmar has created an openness to new ideas and the Gospel. God is moving, and we believe the time is ripe for a church-planting movement in Myanmar.