Van Hoe Lian Shares His Work In Myanmar (Part 3)
In our concluding series on Love For Myanmar Neighborhood School teacher, Van Hoe Lian, we hear in his words the story of teaching and caring for these children.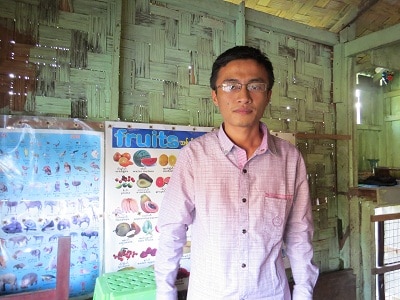 Vision for Neighborhood School
Myself
Greetings in the name of Jesus! My name is Van Hoe Lian. By the grace of God, I could complete Master of Art in Biblical Studies, in India. I have been known to Pastor Elisha personally in the past nine years, following after his preaching and personal evangelism work. I personally know and receive that God calls me to be in His service.
It's History
Regarding to this Neighborhood School, I have been ministering about nine months. I really enjoy telling about Jesus to them and seeing children's memorized Bible verses and listen to the word of God. Moreover, I am amazed by looking back to the past seven-year's history of God faithfulness in leading upon this Neighborhood learning Centre. God has been faithful in spite of our weaknesses.
Here, I would like to state a little about the schools' History. Pastor Elisha's wife, Christina, founded the school after praying to the Lord for a long time. And God opens the door to evangelize to this Buddhist community wonderfully. The owner of the school building nearly died. Through the help of Pastor Elisha's family, God's miracle took place and the operation was successfully done though the doctor did not totally expect such a result. The house owner himself knew and accepted Christ as his personal Lord and Savior. Praise God! This is one of the ways God opened the door for us to evangelize in this Buddhist area.
We love and care for these Buddhist school children. We take good care of them as much as we can regarding their respective school subjects and health. Therefore, the student's parents allow their children to be with us though they know we are telling about Jesus on Saturday and Sunday (especially).
Our children have been hearing the gospel year after year and, I believe that the student's parents will not allow their children to attend school as their faith becomes stronger and stronger. Some children may face difficulties in their respective home concerning their faith. Who will encourage them? And stand with them?
I have been thinking and worry about this. So, we are to pray more and ask God's will .
TO GOD BE THE GLORY
In His service,
Van
To learn more about the work being done in Myanmar and how you can help, please visit www.loveformyanmar.org.