What Truly Matters?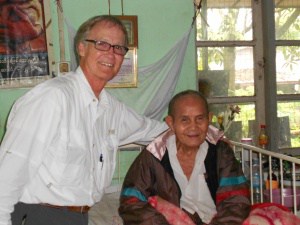 By Gary Watkins, Co-Founder of Love For Myanmar
---
Sunday, November 8 will be bookmarked- one way or another- as an important page in the continuing story of Myanmar's journey towards democracy.
Since 2010, the nominally civilian government has led the country with a veneer of legitimacy as it is widely believed the election was rigged. Many observers and voters worry that this election could follow a similar path.
Regardless of Myanmar's election results, Love for Myanmar (LFM) intends to continue its ministries within the country as it as done for ten years. We don't see politicians. We don't see military personnel. We don't see Buddhists. We see people–honorable, humble, and hurting.
We intend to continue listening to their perspectives, focusing on their needs, and addressing their hurts. We believe filling people with love, joy, and peace will make them more loving, joyful, and peaceful towards others.
What truly matters to LFM? Whether this election is credible is not a burning question for us. Whether the military's political role is further cemented in the governing process through this election's results is not a lingering issue to us.
No matter how far off course this election may take its country, LFM intends to be present, intends to persevere. We hold firmly to the belief that those actions undertaken for the Lord in the power of His spirit are the only steps that truly matter.
---
(The following is excerpted from Myanmar Now, an independent news service located in Yangon and supported by the Thomas Reuters Foundation.)
Myanmar's general elections take place on Sunday, Nov. 8, 2015, and will be the first nationwide polls in 25 years to be openly contested by all political parties after decades of military rule.
President Thein Sein's ruling Union Solidarity and Development Party (USDP), which is linked to the army, will compete with Aung San Suu Kyi's widely popular National League for Democracy for the majority vote.
Dozens of parties from ethnic minority states will compete for a share of the votes in their areas, while a large number of smaller parties will also run for seats in the Bamar-majority regions.
Key facts:
Myanmar has a population of around 51.5 million people, according to the 2014 census. Those over the age of 18 who are eligible to vote account for about 33.5 million.
The former military government ratified the constitution in 2008; it held general elections in 2010 that were considered rigged in favor of the USDP. The 2012 by-elections were openly contested and the NLD won 43 of the 44 seats it contested.
Voters will be able to cast their ballot on Nov. 8 from 6 am to 4pm.
Ninety one parties will contest the elections, with a total of 6,039 candidates, almost double the figure of 3,069 candidates in the 2010 elections.
The electorate will vote in 325 representatives to the Lower House (seven constituencies under control of ethnic armed groups will not hold elections due to security concerns), 168 representatives to the Upper House, and 673 representatives to state and regional parliaments for a five-year term. A remaining quarter of seats in both houses of parliament, and on state and regional level, are reserved for un-elected military officers, in accordance with the constitution.
The election results will be determined through the first-past-the-post system, in which the candidate receiving the majority of the votes takes the seat to represent the whole constituency.
Post-elections, in a bicameral parliamentary session, newly elected lawmakers vote for a president. They can vote from three candidates; one nominated by the Lower House, one by the Upper House and one by the military. The losing candidates become vice-presidents.
A party needs to secure more than 50 percent of parliament seats in both houses – or more than two-thirds of the contested constituencies – to gain a sufficient majority to be able to vote in a new president.
Myanmar's president then forms the new government and appoints the states and regions' powerful chief ministers.
The current legislature's term expires on 30 Jan. 2016 when it hands over powers to new lawmakers. In early February, the parliament convenes to vote for a new president. On March 29, the current government's term expires and a new government takes over.