Why It Matters
Back in 2008 I was working for another nonprofit serving in another hemisphere but based Georgetown, Texas, right in the heart of Texas.  While employed at this nonprofit I had the great fortune of engaging with Reed Iwami, a man of exceptional talent with a passion I would soon discover.  In the midst of our work together I overheard him share something about Myanmar and was a bit intrigued.  So, I asked.  That was the very beginning of what has been an astonishing journey for me personally and a long, deep friendship with several people in my hometown of Georgetown who shared the same vision.  And perhaps more than anything, this newly formed opportunity began to seer in my heart a care for a people group in a part of the world I had never traveled or even known before.  Love for Myanmar was, for me, beginning to bloom.
If you've spent any time on the Love For Myanmar website you've seen images and read about efforts to really make a difference in the lives of people who have faced such difficult circumstances.  From political to economic to social to even religious, people in this corner of the world have suffered in many ways we have never experienced in the western hemisphere.  Many happy faces disguise the troubles they experience from government oppression that has run deep for many decades.  Access to clean water, quality health programs, and even healthy food is substantially limited.  And for those that are new believers in Jesus Christ, the cost of worship, study and even prayer can be a very heavy burden in a country that is overwhelmingly Buddhist. But why should all this matter to me?
It matters because I know about it.  Before I first uttered the name of the country, Myanmar, I had such a limited perspective of the people of this country.  It was that place formerly called Burma where a British empire once ruled and people supposedly existed in harmony.  After delving into the difficult realities that face these people, it is so much harder to just ignore.  The people of Myanmar are people just like myself, trying to live a happy, sustainable life with freedom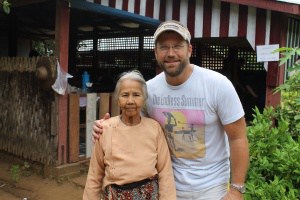 to learn, to live, to love and to grow.  Why should I care? Because these wonderful people are my brothers and sisters in Christ and my faith declares that I should care.  Matthew 25:40 – "The King will reply, 'Truly I tell you, whatever you did for one of the least of these brothers and sisters of mine, you did for me.'
So why does it matter?  It matters because it matters to God.  And as a believer in the God's mighty grace, His amazing peace and His infinite love for me, then it matters to me too. And now you know about it too.  Won't you join me in supporting Love For Myanmar as they serve our brothers and sisters?
Brian Crowe