Continuously Amazing
'Volunteers daily amaze me with what they are willing and able to do for others!'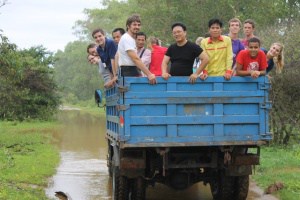 One of our followers on facebook, Amy Saenz, said that on our page last week. She pretty much hit the nail on the head, so to speak. Volunteers are completely amazing. Here at Love For Myanmar volunteers pour new life into our organization continuously. Whether it is students giving up part of their summer to spend in Myanmar with our orphanages, college students helping with the youth in Austin, families giving time to help a refugee family, or professionals giving up vacation time to complete a project Love For Myanmar has some of the most selfless volunteers you could hope to meet. There is no way our organization could meet with the success it has enjoyed in offering continuous humanitarian aid without our volunteers.
We are SO THANKFUL for all of our volunteers. There is always room for more of you! Have you volunteered with an organization lately? Get out there! Find something you are passionate about in your community, in your country, in an international arena, and lend your weight to their cause. I promise, whether you ever know it or not, you will make a difference!
Interested in joining the team of volunteers at Love For Myanmar? Email us at info@loveformyanmar.org. We have a place that's just right for you!