Introductions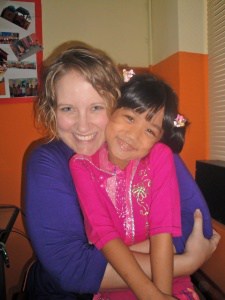 Hello blogosphere! I'm Celina Henry, your friendly Love For Myanmar (LFM) blog writer. I wanted to take this week to introduce myself so that you know a little about the person behind the screen. I'm the Resource Development Coordinator for LFM and have been volunteering and then working for this awesome organization since May 2011. I lived in Yangon, Myanmar for two years volunteering and having the distinct privilege to be the English Department Head for Horizon International Schools (For those of you that know her, this is where I helped Courtney Carlson get a placement and she is now also in Myanmar working and volunteering). My time there was incredibly rewarding in ways I could not have possibly imagined and I fell in love with the people and the country almost immediately.
Other interesting facts/insights about me that you might find interesting:
I have my BA in Anthropology from Texas A&M University in Bryan. Whoop! Fighting Texas Aggie class of 2006.
I also hold a minor in Dance Performance, a Certificate of Advanced International Affairs, a Texas Teaching Certificate for Dance 8-12, an East West Somatic movement therapy certification level 3, and a group fitness trainer certification. Clearly I love to learn!
My parents (Reese and Marji Henry, Jr.) live in Georgetown, Texas. I have a sister that also works for LFM (Meagan Henry) and a brother that is the Preacher at Hope Arise Methodist Church in San Antonio (Reese Henry III). I'm very proud of them both.
I was told once that I have a 'high ratio of save the world types' in my life. Which naturally forced me to think about it…. and I do. My friends and family are some of the most compassionate, loving, 'save the world types' I have ever known. I think that I'm the luckiest girl in the world to have them.
I am taking an Intro to Aerial dance class…. Aerial arts are so much fun!
I have two Pomeranians, Sugar and Bits; they are little fluffy balls of happy.
I'm a secret sci-fi geek…. only…. not so secret. My dad let me stay up late when I was little to watch Star Trek: TNG. I've been hooked on all thinks science fiction ever since….
I'm looking forward to sharing with you via our blog and hope you come check back here often for new and exciting stories and projects that Love For Myanmar is doing. We are growing and changing every day and can always use YOU! Check us out at www.loveformyanmar.org. Together, we can make a difference!
I hope your day is full of blessings you didn't even know to look for!
Until next time…